---
Training Classes
On THURSDAYS Oak Hall School, 1700 SW 75th St, Gainesville, FL 32607 | Covered and Lighted.
Please contact Denise Gaboury (352)-316-4543 to make arrangements for any of these classes. Obedience & Rally classes Thursdays: 6 PM. Conformation classes: Thursdays BY ARRANGEMENT
Also those folks signed up for these classes please call if you are not going to make a class by 12noon on Thursdays.
ON WEEKENDS typically Saturdays Conformation classes will be held twice a month. Please contact Jeremy White for arrangement. (352) 445-8873. Pine Grove Baptist Church 4200 NW 39th Ave Gainesville Fl.
Obedience
Developed in the 1930s, Obedience is one of the AKC's oldest sporting events. From walking on- and off-leash to retrieving and jumping, or demonstrating your dog's ability to stay, Obedience trials feature dogs that are well-behaved at home, in public places, and in the presence of other dogs. It is essential that the obedience dog demonstrates willingness and enjoyment while it is working with handler.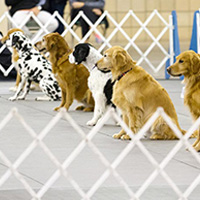 Whether or not you want to compete, every dog owner should consider some form of obedience training. It's the best way to establish good communication skills between you and your dog – and to make sure that your dog is the most well-behaved one in your neighborhood!
Rally
Started in 2005, AKC Rally is a fun family sport year. It's a perfect starting point for those who are new to canine sports, as AKC Rally provides a challenging introduction to all AKC Companion Events for dogs and handlers to strengthen their skills. Think of an AKC Rally event as any team sport. You and your dog navigate a course, side-by-side, as you steer him through a course of 10-20 different signs.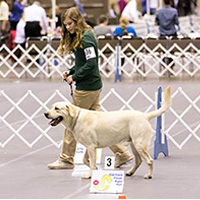 Each of these signs provides instructions regarding the next skill that is to be performed. The dog and handler move continuously throughout the course with the dog under control at the handler's left side.
Conformation
The official term for dog shows is conformation — as in, the act of conforming or producing conformity. While a dog show may look like a beauty pageant, it's not.
Dogs are not being compared to each other; they're being measured by how closely they conform to the standard of their particular breed.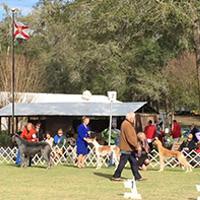 Why? Because the closer a dog's appearance is to the breed's standard, the better that dog's ability will be to produce puppies that meet the standard. It's also the reason why mixed breeds and spayed or neutered purebreds are ineligible to compete in conformation.
---
Directions:
Take University / Newberry Rd. to the West, going under I 75. Turn left at the light on to 75th St. / Tower Rd.
After the second traffic light, get into the left hand lane; the right hand lane becomes a turn only lane. Continue through the light at SW 8th Ave., where it becomes two lane road.
Look for the school signal sign on the right. You will see a 3 board fence and Oak Hall sign on your left. Continue PAST the building on the left hand side.
The Middle School is the next building on the RIGHT, across from a large parking lot.